Comfortable self-contained accommodation in Maitland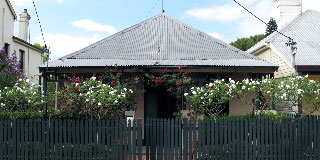 Lynmouth Cottage
Lynmouth Cottage is a fully self-contained cottage located 30 minutes from Newcastle and 20 minutes from the Hunter Valley. Our cottage offers two beautifully furnished bedrooms, including one queen and one double, with generous living and dining areas.
Dating back to the 1850s, Lynmouth Cottage takes its place among historic Bourke Street in Maitland. The cottage has recently been renovated and refurbished to combine the graceful feel of the past with the convenience of the present.
Exciting activities in the area
Maitland and the Hunter Valley offer a number of wonderful places to visit: The Maitland Heritage walk provides information on local homes and the diverse history of Maitland, while the Maitland Art Gallery provides a sophisticated combination of the old and the new – and a lovely gift gallery and café. The historic Maitland Gaol and the Walka Water Works are a mere walk away from Lismore Cottage.
A little further down the road
If you feel up for a trip to the beach, some whale watching or a bite to eat in one of the many five star restaurants, visit the beautiful Port Stephens, less than an hour's drive away. For something a little more rustic, there's Barrington Tops, which provides bush walks and eco stays. However, if you're looking for something just a little bit more, the wineries are the feature point of the Hunter Valley, featuring wine tours, restaurants and specialty shops, as well as the Hunter Valley Gardens. The Hunter Valley truly has something for everyone!
Contact us on 0438 343 766to learn more about our cottage!